This Diamond Mills Saugerties NY Wedding certainly was eventful. A busy wedding day typically includes getting ready for the ceremony, the ceremony, family and wedding party pictures, followed by the cocktail hour and reception. Angie and Veeshal had TWO times getting dressed (Indian, then American), TWO full ceremonies (Hindu and Civil), and TWO group picture sessions. They did it all amazingly among 200+ family and friends.
Everything took place at the picturesque Diamond Mills Hotel, overlooking Espous Falls in the lovely and historic Saugerties, NY. Excitement (plus some nerves) filled the room as Angie with her Mom, along with her bridesmaids were getting ready. As Angie was assisted getting into her traditional Indian dress, she also had help with all of her adornments and jewelry. Her transformation was remarkable and she was glowing with beauty. Down the hall, Veeshal and his guys were surprisingly calm as they prepared him for his Baraat.
Two Ceremonies, Twice the Fun
The festivities were amazing, including the mostly cooperative white horse that Veeshal rode during the Baraat among dancing and singing friends and family. The level of ceremony and symbolism is intense during the Hindu ceremony, which took place in the meticulously prepared Mandap (canopy of four pillars). As Angie and Veeshal were guided through the Diamond Mills ceremony along with their parents and family, they would often reconnect with huge smiles, proving their happiness.
A string quartet played while guests enjoyed refreshments while Angie and Veeshal did a complete change for their traditional American ceremony. Officiated by Angie's father, they were once again all smiles as their vows were said and rings exchanged during this lovely early Summer ceremony. The balcony overlooking the falls was hard to resist for most on such a perfect early Summer night during the following cocktail hour and reception. The band, Bill's Toupee, was great as they kept everyone dancing and enjoying the music.
With their married lives off to this spectacular start, I wish for Angie and Veeshal all the best. Congratulations!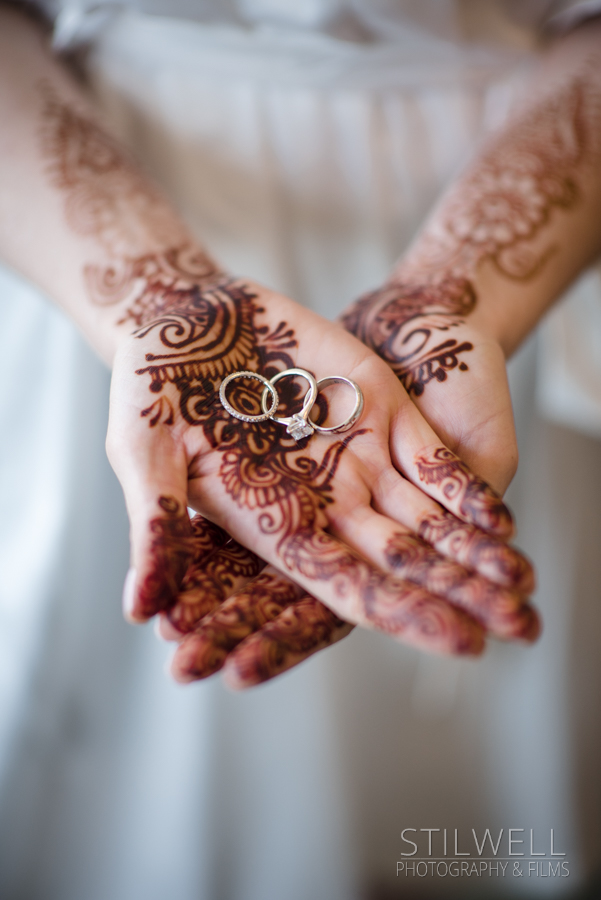 Angie holds the rings and shows the beautiful Mehndi on her hands.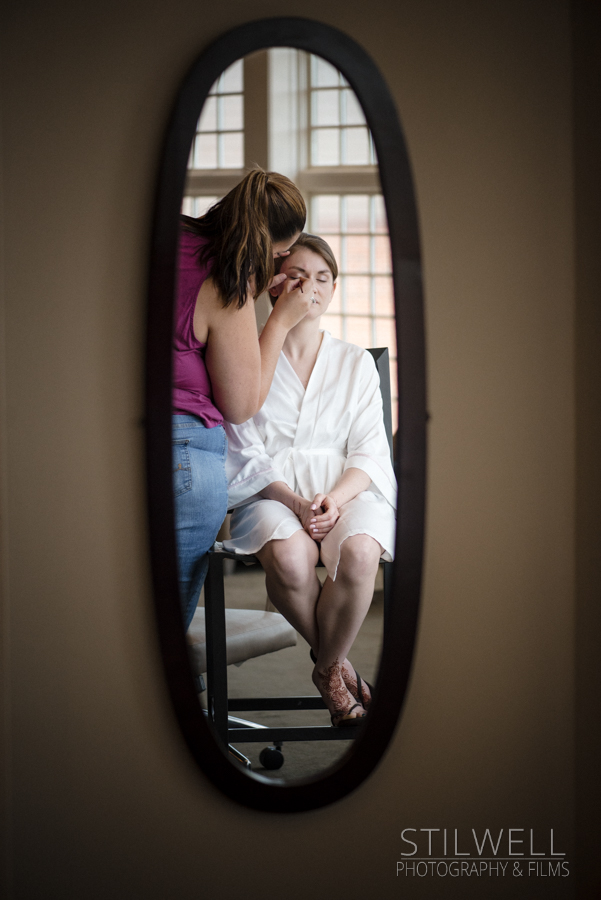 Getting ready entirely two times was needed, and Celeste von Damon had perfect timing with Angie. She had two different looks to match each ceremony and dress.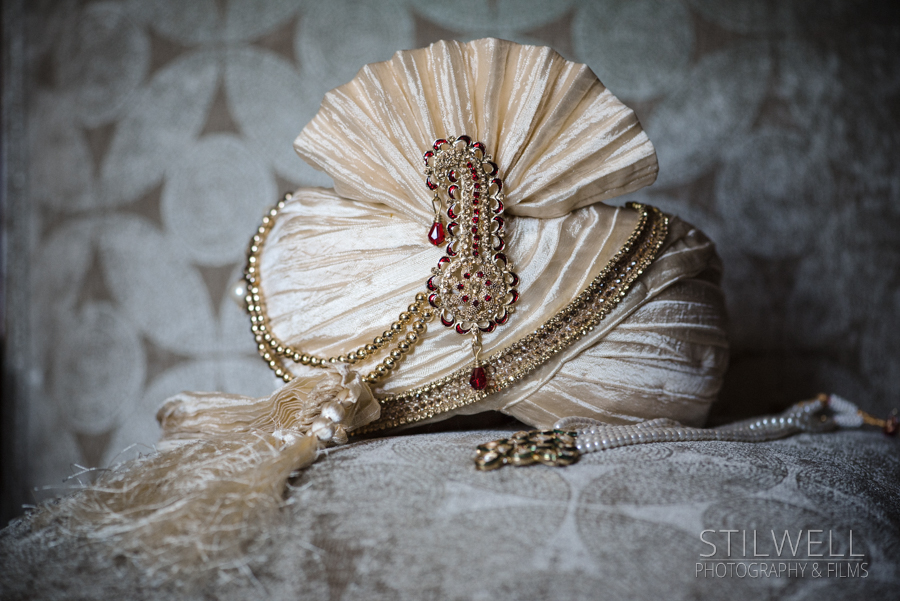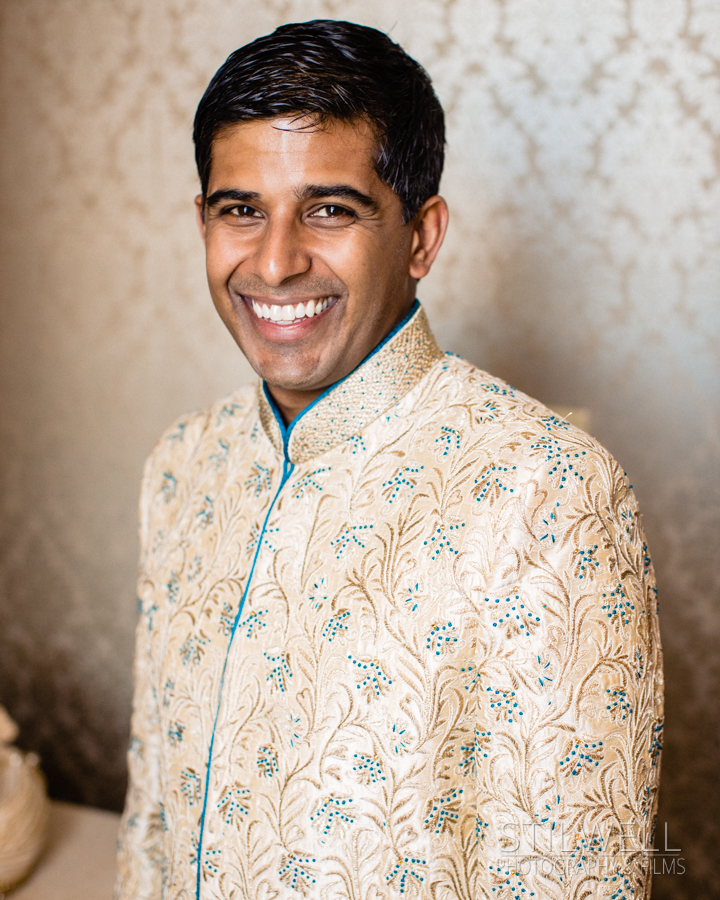 Veeshal wore his smile all day, starting with preparing for the Hindu Ceremony.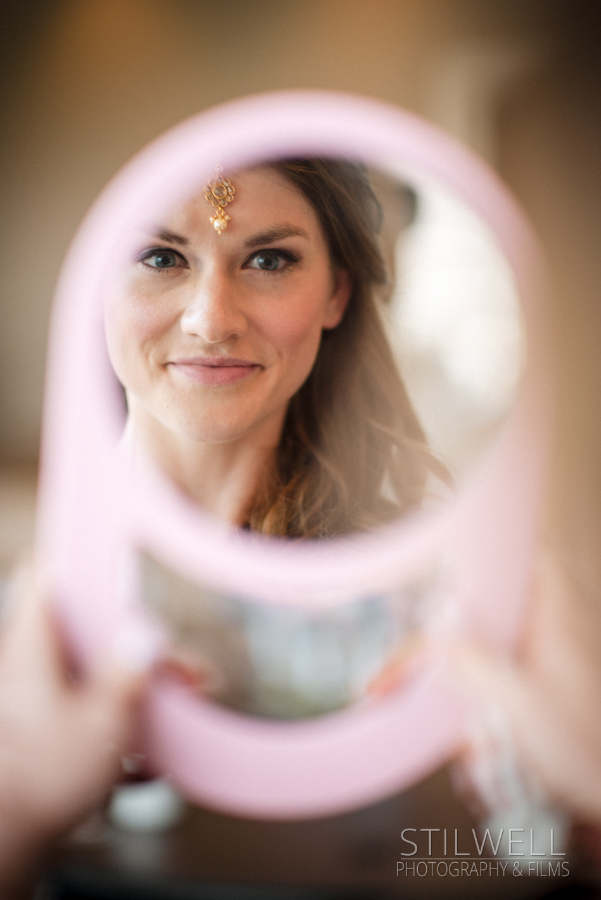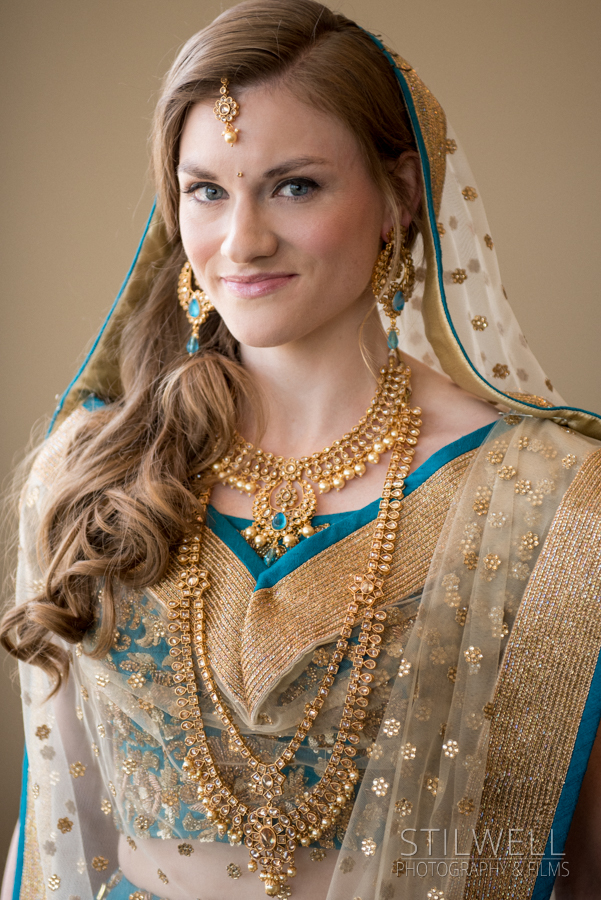 Red is traditionally the favorable color for a Hindu bride, and Angie received permission from Veeshal's parents to wear this beautiful turquoise dress that she preferred. Because of all the adornments, it was the heaviest dress I've ever held.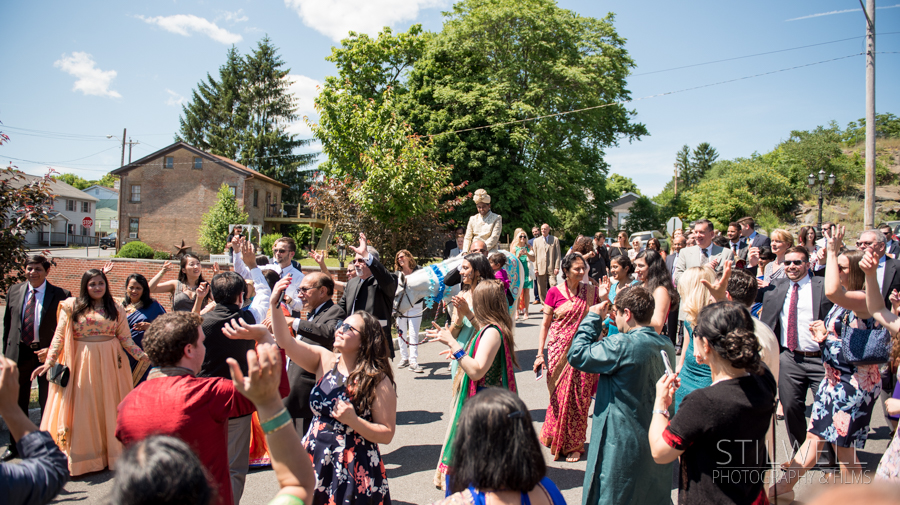 Veeshal is surrounded by joyful guests as he arrives on a white horse during the very festive Baraat.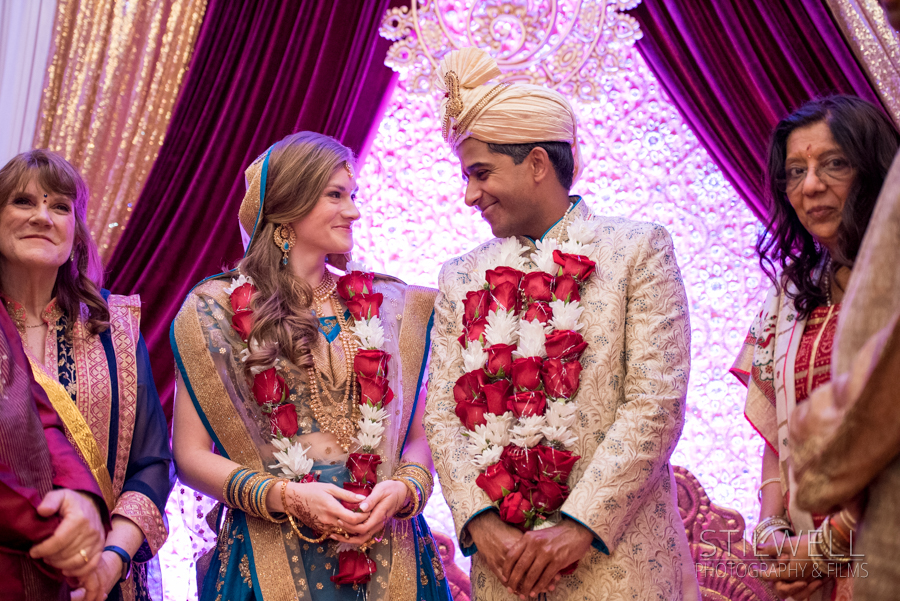 Angie and Veeshal sneak a beautiful moment during their ceremony.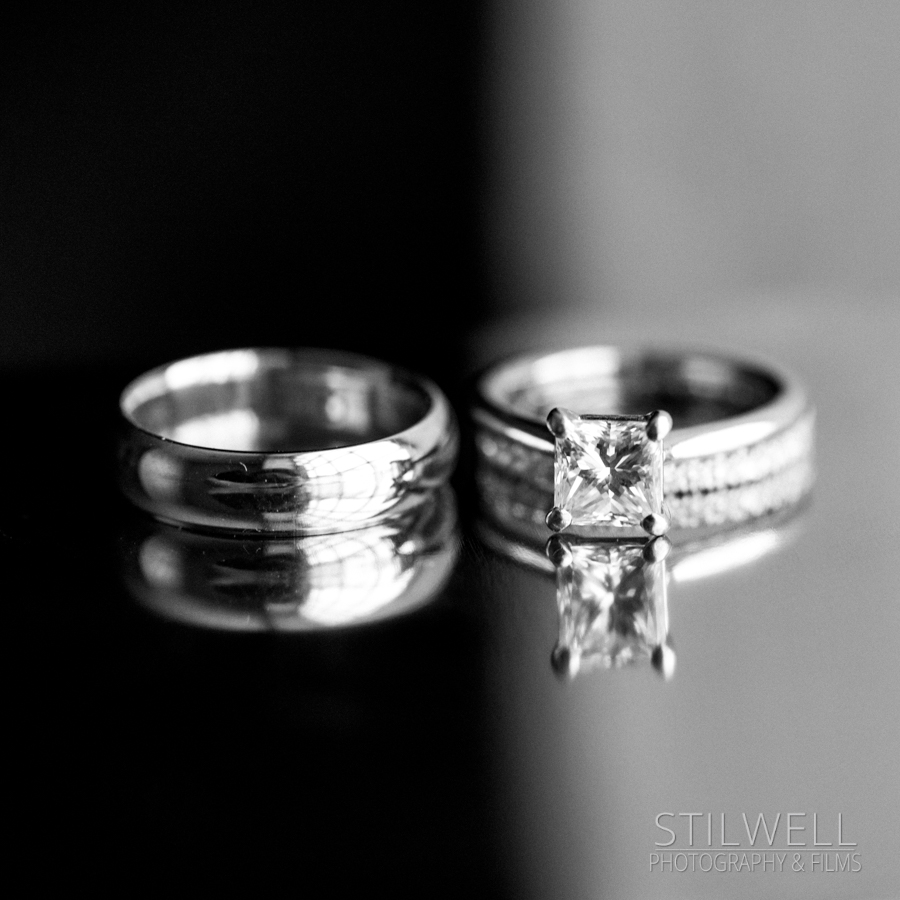 The symbolism of Angie and Veeshal's two cultures is shown in this black and white backdrop of their rings, now side-by-side.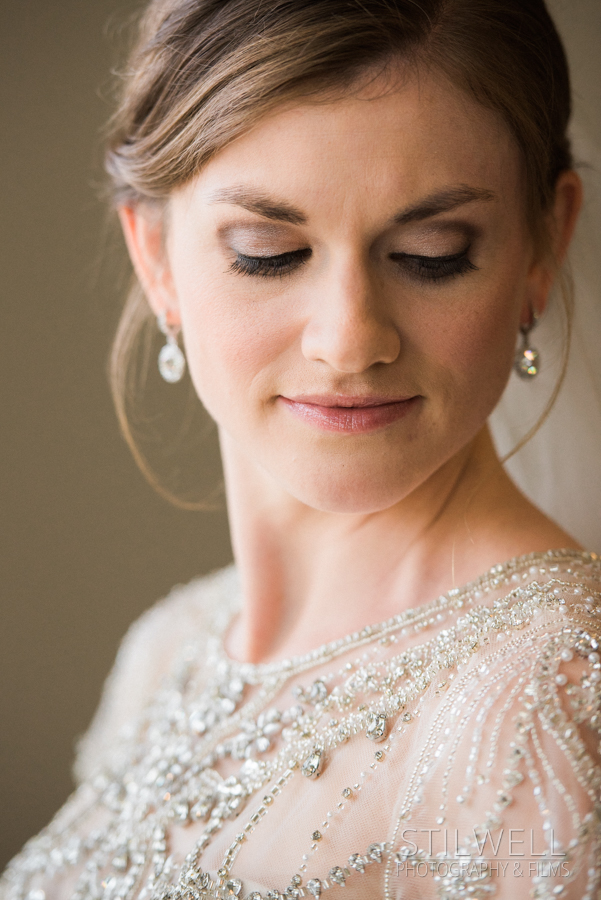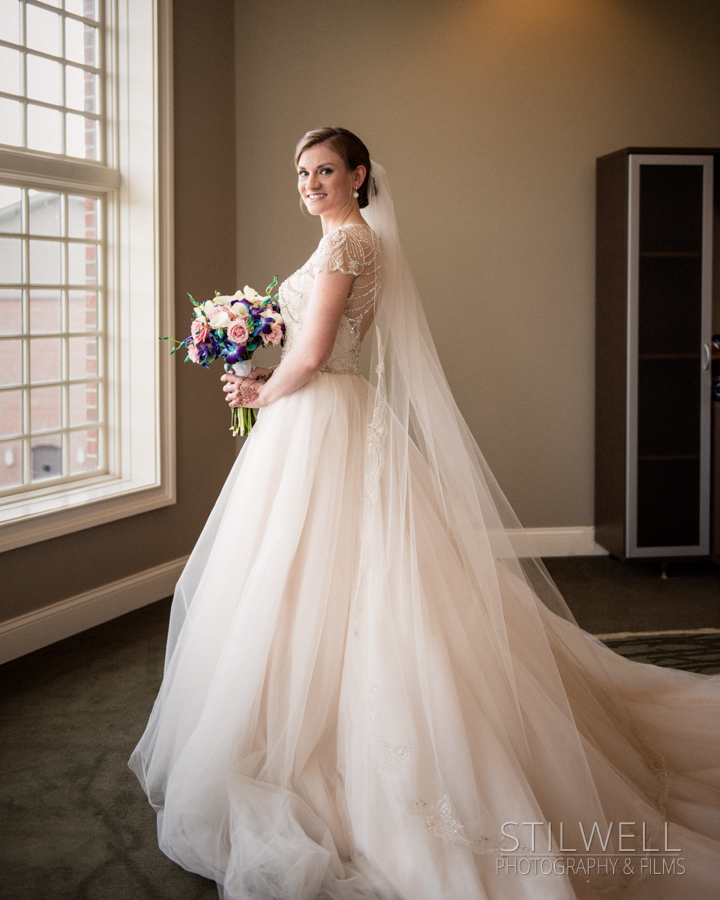 Angie was equally as stunning in her traditional American dress as she was getting ready for her second ceremony.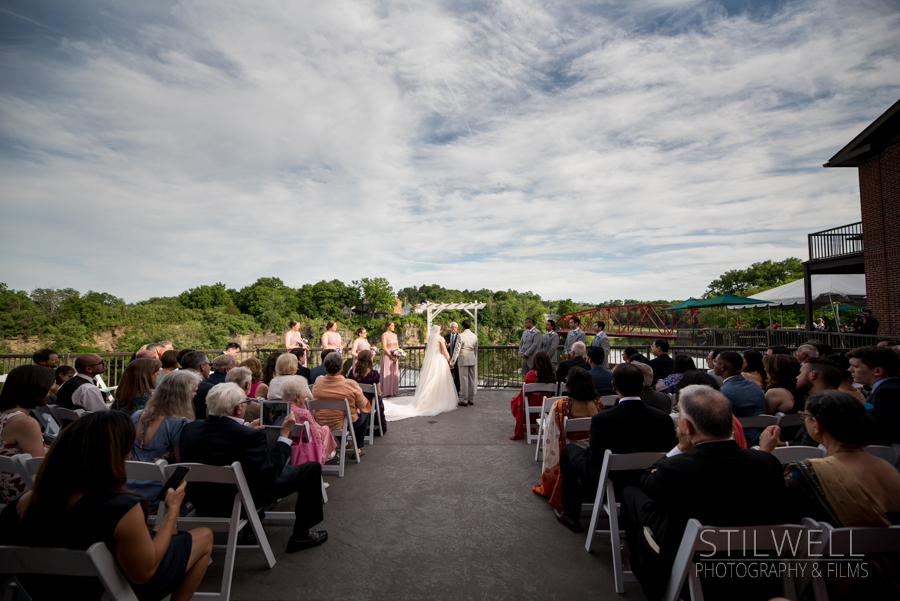 The skies we beautiful for this early evening ceremony on the balcony at Diamond Mills.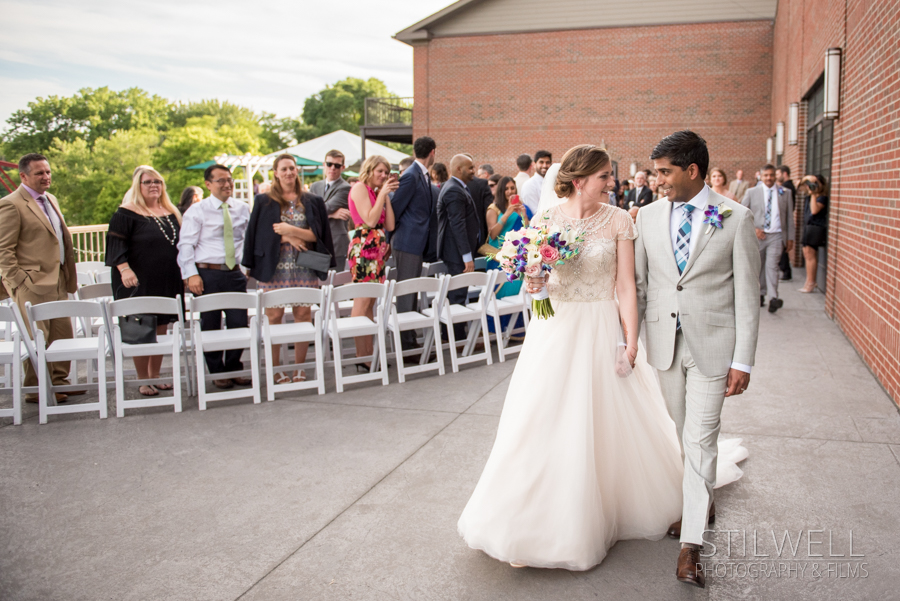 It's not hard to see the joy in these newlyweds' expressions as they complete their second ceremony.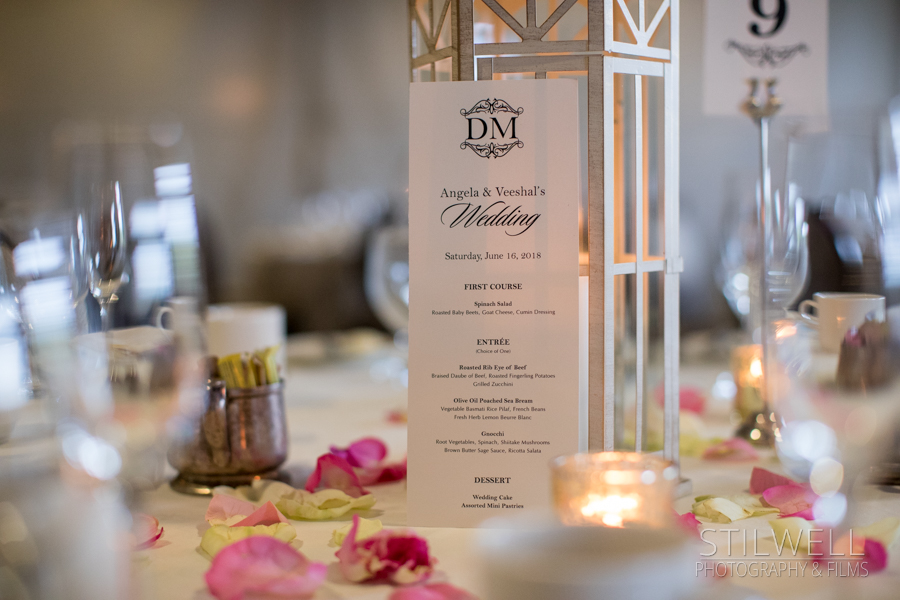 The cocktail hour included Indian food, and dinner was everything expected, both delicious.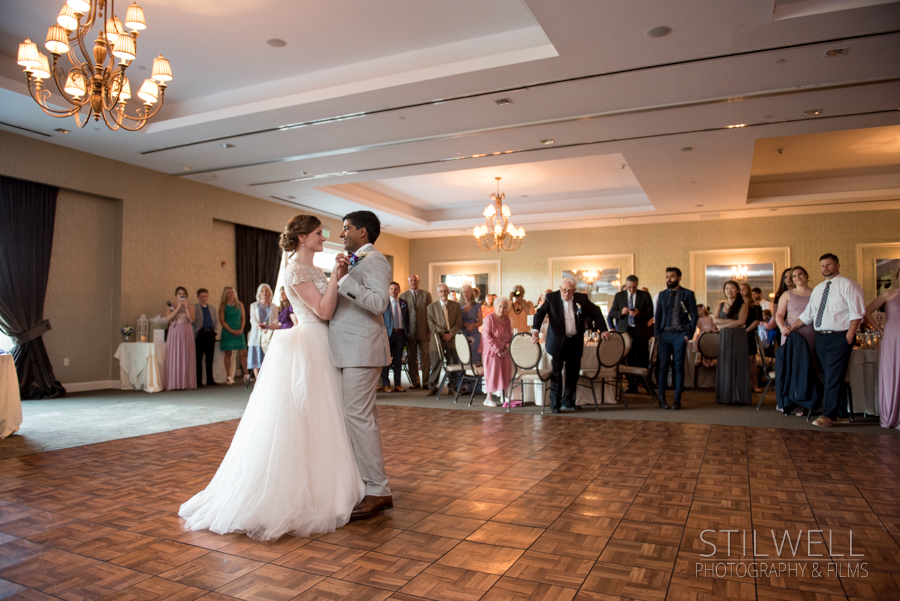 The happy couple's first dance was to the Rufus Wainwright's version of Signed, Sealed, Delivered, performed by the band, Bill's Toupee.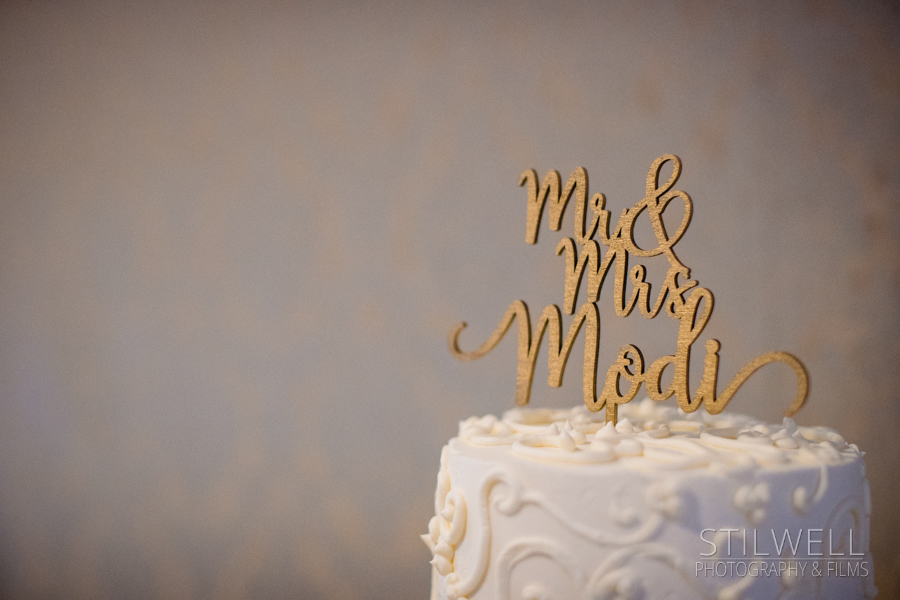 There's something extra fun when the couple has a custom cake topper.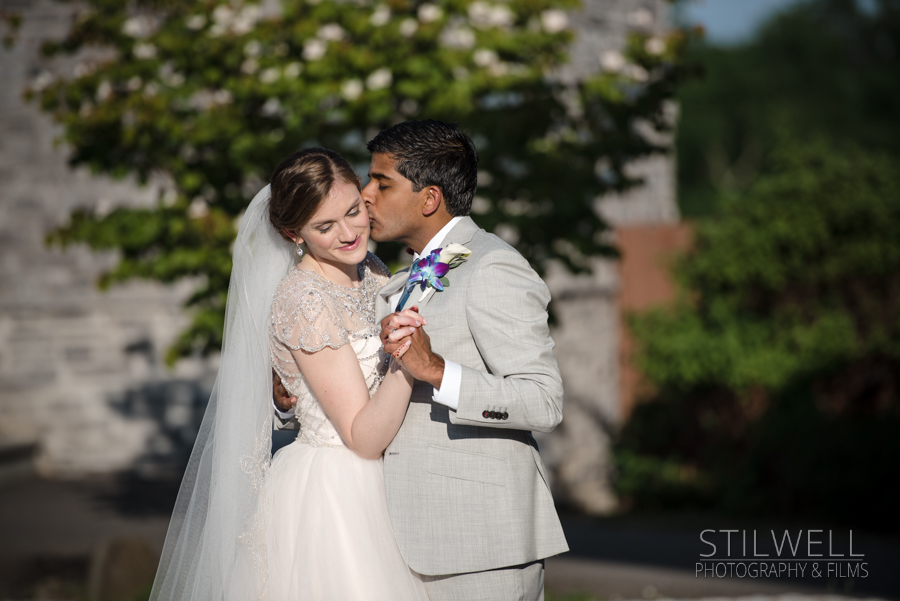 Diamond Mills Saugerties NY Wedding Details
Hudson Valley Wedding Photography: Stilwell Photography & Films | Alisa Stilwell, Andrew Federico
Hair & Makeup Stylist: Celeste von Damon, Beautify by Celeste
Dress (white): Sottero & Midgley
Florist: JoAnn M. Provenzano, Cherry Brandy Designs, Port Ewan NY
Venue: Diamond Mills Hotel & Tavern, 25 S. Partition St., Saugerties NY
Venue Coordinator: Bethany Boyce
Entertainment: Bill's Toupee
Officiants: Pandit Krishna Varanasi, Pandit Manojkumar Panigrahi (Hindu), Joseph Thomas Mitchell (Civil)
Be sure to follow us on Instagram for updates and the latest wedding photography and cinematic wedding video in New York & New Jersey.