Lauren & Chris's wedding at Villa Venezia was a wonderful event. Villa Venezia has what it takes for a great wedding reception, from the beautiful lush garden to the elegant interior design.
Chris took his time with his guys getting dressed at the Holiday Inn, doing what guys do. They were easygoing and ready to go. Likewise, Lauren and her bridesmaids along with her mom spent the earlier part of the day getting ready, sipping champagne, and enjoying each moment. Her dad joined them, and upon seeing his daughter he paused and was fighting back the tears. Always a favorite wedding moment of mine!
Father Tom at Sacred Heart Church in Monroe performed a beautiful ceremony for Lauren & Chris. He has a wonderful presence, and they seemed to soak in every last word as they smiled to one another the whole time. Everyone was filled with joy at their first kiss, including me.
I loved their Villa Venezia wedding reception. As always, the decor along with the delicious food and great service, makes for an awesome celebration. Lauren danced the night away with family and friends, joined sometimes by Chris, who mostly enjoyed talking and celebrating with everyone else.
The night was truly one to remember, and I am honored to have been a part of it. Thank you, Lauren & Chris. I wish for you both, all the best!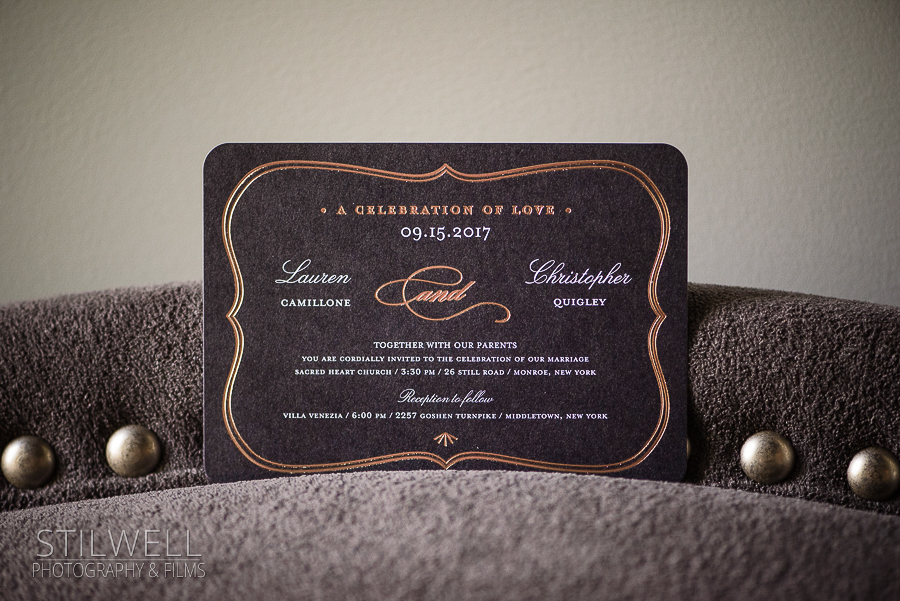 Wedding at Villa Venezia Details
Couple: Lauren & Chris
Photography: Alisa Stilwell, Alison Daniels
Dress: David's Bridal
Flowers: Lena, Flowers by David Anthony
Ceremony: Sacred Heart Church, Monroe NY
Officiant: Father Tom Byrnes
Reception: Villa Venezia, Middletown NY
Reception Coordinator: Madison Gomo
Entertainment: Nick Ruggiero, Audious Entertainment
First Dance: "It Had to be You", Harry Connick Jr.
Also, be sure to follow us on Facebook and Instagram for updates and the latest photography and video in Hudson Valley. 
For more info on Stilwell Photography and Films, please contact us via our Contact Page. We'd love to set up an appointment for you to come by and see our albums, meet the team, and find out more about our other services, including wedding photography and portraits.